NOW SIGNIFICANT LOAD REDUCTIONS ARE POSSIBLE
The vast majority of small to medium sized buildings do not have automated energy management systems to control lighting, HVAC, and plug loads. Control is for the most part`manual` and typically controlled with a basic thermostat.  Welcome to Wireless Energy Management (WEM). Now thanks to the combination of improved wireless technologies and innovative switch and outlet devices, any size building can benefit from better control of electric and gas loads.  Infrared sensors and the latest RF technology give you point of use control of lights, thermostats, and plug outlets – saving 20 – 50% of your associated utility costs.
Wireless devices and sensors mean implementation costs are drastically reduced. Our unique and innovative sensors and controls optimize efficiency and provide a level of comfort and convenience you cannot achieve with traditional switches and outlets. Paybacks are often in the 2 to 5 year range.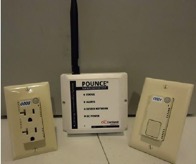 Shown above: Plug and switch devices with embedded temperature and occupancy sensors. System Control Unit (SCU) web server delivers wireless connection to devices, storage, and programming via dashboard, allowing for power monitoring and control.
WEM systems can also provide real time energy measurement - to help maintain and document your savings.
With Wireless Control of Lighting, HVAC, and Plug Loads you can:
Optimize loads prior to implementing renewables
Relax temperature anytime a space is unoccupied – yes even during
the day!
Control room lighting so as to harvest day light, or simply turn off
during unoccupied periods
Stop patristic loads, e.g. copy machines from increasing you
electric bill
Curtail loads for participation with Demand Response
Minimize peak demand charges
Achieve compliance with ASHRAE 90.1 2010 and new electric codes at a
fraction of the cost of hard wired systems
Integrate via BACnet with existing building automation system
First step:
Get the investment numbers in front of you. Call us. We're confident we can show you a great return on investment.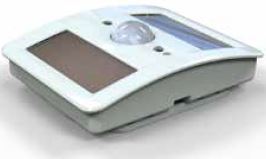 The above motion / light sensor is a wireless, self powered, passive infrared sensor that ensures reliable detection of occupancy and daylight.