Achieve Direct Digital Control functionality – at a fraction of the cost.
Traditional pneumatic thermostats are manual devices which do not allow for remote readings, diagnostics, or setpoint control. This translates to costly maintenance, wasted heating and air conditioning of unoccupied space, and inability to work with utility demand response programs. Traditionally, these shortcomings can only be overcome by replacing the system with a new Direct Digital Control (DDC) system, a time-consuming process which disturbs occupants and costs $2,000 or more per thermostat zone.
Cypress Envirosystems' patent pending Wireless Pneumatic Thermostat offers virtually the same functionality as DDC thermostats but can be installed in as little as 20 minutes for a fraction of the cost. Unlike DDC systems, building operators have the flexibility to retrofit only selected zones rather than an entire building all at once. The Wireless Pneumatic Thermostat can operate as a standalone system or can integrate with existing building automation systems via BACnet.
The US GSA and Department of Energy tested the WPT extensively for over a year and now recommend this system for "any facility with conventional pneumatic controls." They found simple paybacks to be as low as 1.9 years. Their full report can be found on the GSA's website here.
Product Brochure
Case study - NYC Schools
Case study - GSA/Green proving ground program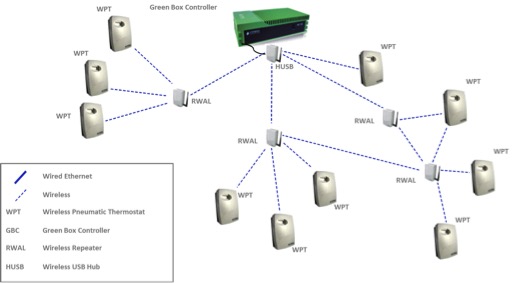 Wireless Pneumatic Thermostat Configuration