Effectively matching your electric and gas consumption based on occupant demand
Wireless, battery-less sensors combined with enhanced RF technology gives you point of use control of lights, thermostats, and plug outlets – saving 20 – 50% of your associated utility costs.
"Energy Harvesting" wireless devices and sensors mean installation costs are drastically reduced. It also means great efficiency for transmission. This of course translates into a better energy investment for you. Paybacks are often in the 2 to 5 year range.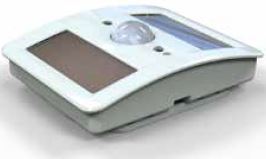 The above motion / light sensor is a wireless, battery-less, self powered, passive infrared sensor that ensures reliable detection of occupancy and daylight.
WEM systems can also provide real time energy measurement - to help maintain and document your savings.
With Wireless Control of Lighting, HVAC, and Plug Loads you can:
Optimize loads prior to implementing renewables
Relax temperature anytime a space is unoccupied – yes even during
the day!
Control room lighting so as to harvest day light, or simply turn off
during unoccupied periods
Stop patristic loads, e.g. copy machines from increasing you
electric bill
Curtail loads for participation with Demand Response
Minimize peak demand charges
Achieve compliance with ASHRAE 90.1 2010 and new electric codes at a
fraction of the cost of hard wired systems
Integrate via BACnet with existing building automation system